News in Slow Japanese is now offering educational and group discounts. Save up to 60 percent. Set-up is easy with only one payment required.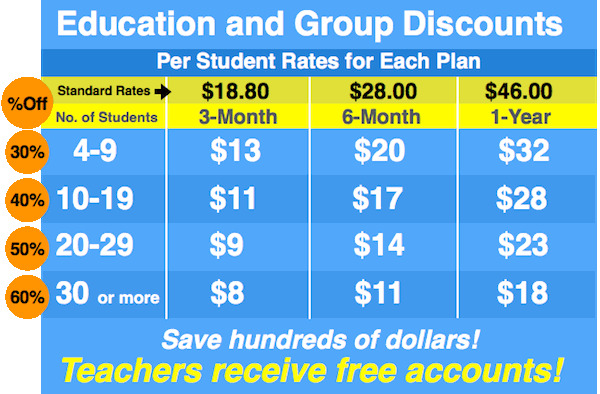 ※All amounts in US dollars

How It Works
Using the form below, Select the plan you are interested in, the class size and exactly how many students you are enrolling. Then submit. When I receive this information, I will send you an invoice via PayPal. Once payment is received, I will send you sign-up codes for each student. Students will create accounts using their sign-up code. The term for the membership will begin when the student signs up. Teachers will receive a free Premium Access membership of the same plan. Teachers enrolling over 10 students will receive 1-Year of Premium Access for free.

Ms. Tanaka has a 22-student class. She would like to sign up her class for a 3-month Premium Membership. Ms. Tanaka checks the chart above to find the rate that fits her class. That would be $9.00 per student. Here total charge would come to $198.00 (22 x $9.00). That is a savings of over 215 dollars! Ms. Tanaka fills in the form below and submits it. Soon she receives an invoice with payment instructions from PayPal. Once payment is received, Ms. Tanaka receives 22 signup codes plus her free one-year membership code. She passes these codes on to her students to set up their accounts.

If you have a unique situation that does not exactly fit the chart above, please feel free to send me a message in the feedback form at the bottom of the page. For example, if a 3-month plan does not fit your timetable, I can adjust the term lengths to fit your school's schedule. I want to work with you to find the perfect fit for your class.

Do you have a specific request? Drop me a line and I will do my best to help you out.
Thanks!
Sakura
[order_now_form]